1. At Frederick Douglass Junior High School in Harlem, Baldwin joined the literary club whose adviser at the time was
a. Countee Cullen
b. Gwendolyn Brooks
c. Claude McKay
d. Langston Hughes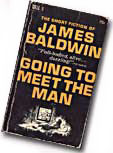 2. At age 14 Baldwin became
a. a pimp
b. a jazz musician
c. a storefront church minister
d. a state champion cross-country runner
3. Who was the man who became a father figure and mentor to Baldwin, recommending him for the Eugene Saxton Fellowship which he received in 1945?
a. Sterling A. Brown
b. Jean Toomer
c. Ralph Ellison
d. Richard Wright
4. When Baldwin was awarded a Rosenwald Fellowship in 1948, he bought a one-way ticket to
a. Paris
b. Marrakech
c. Geneva
d. Istanbul
5. Baldwin's first book, Go Tell It on the Mountain, is
a. the story of a pregnant young woman's struggle to free her falsely imprisoned fiancé
b. a semi-autobiographical novel of Baldwin's teenage years in Harlem
c. an account of a Harlem gospel singer as he and his family search for their identities
6. Eldridge Cleaver, speaking for many Black activists in the 1960s, referred to Baldwin's "error," which he felt was Baldwin's
a. expatriatism
b. homosexuality
c. belief that blacks and whites should try to live together
d. lack of faith in God
7. One of the essays in which Baldwin spoke out against Richard Wright's Native Son was
a. "Everybody's Protest Novel"
b. "No Name in the Street"
c. "Down at the Cross"
8. The character of Leo Proudhammer (Tell Me How Long The Train's Been Gone) rose from the streets of Harlem to become America's greatest black
a. actor
b. musician
c. poet
d. minister
9. From which work is the following quote taken: "Money, as it turns out, was exactly like sex, you thought of nothing else if you didn't have it and thought of other things if you did."? Nobody Knows My Name

10. Baldwin's collection of essays entitled The Evidence of Things Not Seen concerns the
a. murders of Medgar Evers, Malcolm X and Martin Luther King
b. Watts riots
c. Atlanta child murders
d. early gentrifying of Harlem
11. A Rap on Race is Baldwin's account of a dialogue with
a. Kate Millett
b. Tom Hayden
c. Norman Podhoretz
d. Margaret Mead
12. Baldwin's play concerning a woman evangelist torn between
religious fanaticism and love of her carefree, jazz-playing husband is
a. The Amen Corner
b. Blues for Mister Charlie
c. If Beale Street Could Talk
d. Little Man, Little Man
13. Set in the bohemian world of 1950s Paris, this novel recounts a young man's awakening to his true homosexual nature . . .
a. Another Country
b. Just Above My Head
c. Giovanni's Room
14. This short story portrays the initiation of a racist as a man remembers the time his parents took him to see the mutilation and murder of a black man . . .
a. "Sonny's Blues"
b. "Come Out of the Wilderness"
c. "The Rockpile"
d. "Going To Meet the Man"
15. One of the many writers to speak at Baldwin's memorial service in 1987 said: "This man traveled the earth like history and its biographer. He reported, criticized, made beautiful, analyzed, cajoled, lyricized, attacked, sang, made us think, made us better, made us consciously human." The speaker was
a. Toni Morrison
b. Amiri Baraka
c. Maya Angelou
d. Ishmael Reed
_______________________

James Baldwin sites of interest:
The James Baldwin Memorial Website