YXTA MAYA MURRAY
Vasudeo S. Gaitonde's Untitled (1975)


'Vasudeo S. Gaitonde (1924 - 2001) . . . continues to be the most expensive Indian artist ever on the auction circuit'.
Archana Khare-Ghose,

Gaitonde Leads Christie's South Asian Modern & Contemporary Art Auction in New York, Blouinartinfo

, Sept. 13, 2016
Christie's
Sale 11512, South Asian Modern + Contemporary Art
26 May 2016, London, King Street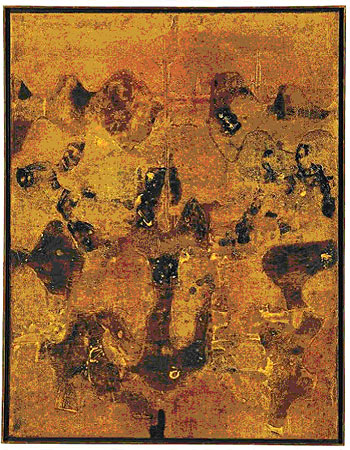 Vasudeo S. Gaitonde (1924-2001)
Untitled (1975)

Price Realised: GBP 1,370,500 USD 2,014,635
signed in Hindi and dated '1975' (on the reverse)
oil on canvas, 39¾ x 29¾ in. (101 x 75.6 cm.)

Lot Notes
Vasudeo S. Gaitonde, who died in penury in 2001, did not like to be described as an Abstractionist, but he was. Gaitonde preferred the term 'Non-Objective' to denote his radiant canvases whose burnished and muddy swirling tints hinted at life's inchoate origins and the tender mysteries of existence. Thus, he wanted to be designated as a 'Non-Objective artist.' The directors at Christie's, however, have explained succinctly to our emailed questions that we who write web copy for the House will refrain from following Gaitonde's wishes in the devising of these Lot Notes that advertise Christie's successful handling of Gaitonde's beautifully oozy, gold-and-brown canvas Untitled (1975), which sold to an anonymous dealer for 1.37 million British pounds, 2 million USD in the spring of 2016.
Gaitonde worked as an Abstractionist, as we have said. When we who write web copy for Christie's read English at Cambridge, and also dithered about in various Masters programs that spanned such humorous disutilities as the History of Art and Latin American studies, we would have insisted upon calling Gaitonde a Non-Objective artist in this précis. We would have said that describing Gaitonde as a Non-Objective artist proved 'the right thing to do.' We in fact might have engaged in lengthy marches and riotous protests and hunger strikes against the racist conventions of the Western Canon so as to ensure that Gaitonde's ghost discovered itself fully respected in the web pages that now constitute art history/de facto advertising for Christie's art-world hegemony. But today we shudder with alarm that we might succumb to this temptation. Our brief (six month) on-sufferance employment history at Christie's has taught us that if we labeled Gaitonde a Non-Objective painter we would suffer an immediate sacking: Describing Gaitonde Non-Objectively, as opposed to Abstractly, would cause Christie's to lose considerable market share, since Non-Objectivists such as Wassily Kandinsky top out at only $23M at auction and Malevich fetches a paltry $37.7M.
Thus, Vasudeo S. Gaitonde was an Abstract Expressionist, and from India. Yes, he must be an Abstract Expressionist, as only the French white male Impressionists rival the prices of mid-century Abstractionists such as the white American Jackson Pollock (whose yellow, orange, black and white 17A (1948) sold to American hedge fund manager Kenneth C. Griffin in 2015 for $200M) and the Dutch New Yorker Willem de Kooning (whose 1955 burnt sienna, white, blue, black, and yellow Interchange sold for $300M, also to Griffin, that same year). A fair number of Caucasian American Abstract Expressionists, really, command similarly frightful sums of money on the art exchange. In 2015, Russian billionaire Dmitry Rybolovlev agreed to pay €140 million for Mark Rothko's No. 6 (Violet, Green and Red) (1951) (though he later sued his dealer for fraud). In 2013, Barnett Newman's mostly Yves Klein blue Onement VI (1953) sold for $43.8M to an anonymous bidder. The Anglo lady Abstractionists pull in some money too, though heaps less, like the Non-Objectivists: Agnes Martin's pale-and-penciled Orange Grove (1965) went for $10.7M in 2016, and Joan Mitchell's pinky-blue Untitled (1960)closed at $12M in 2014.
Imagine, then, the discovery of yet another male Abstract Expressionist lurking about in the hidden corners of global history! This is what has happened with Gaitonde. Though the modest and frugal painter did court art-world legend by living in a dramatically austere way—enclosing himself in a garret, living off of dal, eschewing any evident romantic relationships, grooming himself as a dashing, 'impassive' 'hermit,' and dying in 2001, as Wikipedia has it, in 'obscurity' —these evidences of intense discipline earned him far less postmortem dollars than did the art world's election to gather him into the Abstractionist fold and assign him a New Delhi satellite of the New York School.
The moment Gaitonde's ghost found itself so patented passed in 2014, when America's Guggenheim museum lifted Gaitonde from the shadows with their 2014 retrospective, V. S. Gaitonde: Painting as Process, Painting as Life. Christie's, as it so happens, helped fund this show and we also ensured that the Guggenheim prominently featured Untitled (1975) in its gleaming white halls. Upon a deeper study of our museum/auction house marketing of Gaitonde as an Abstractionist, one can discern that Christie's juggles seemingly discordant theses: One claim we make casts Gaitonde as a co-inventor of Abstraction, and the other describes him as a late adopter of Abstractionist customs who imbued them with an Indian sensibility.
Did Gaitonde co-invent Abstraction? Certain critics certainly suggest so, for example the beautifully lettered Guggenheim adjunct curator and de facto Christie's employee Sadhini Poddar, who writes that Gaitonde personifies the twentieth century phenomenon of 'polymorphic modernism,' which for her 'is the story of several simultaneously evolving histories'. Poddar suggests that Gaitonde should enjoy a status as an autonomous Abstractionist or Modernist, who helped conceive mid-century aesthetics with as much independent energy as Pollock, Rothko, de Kooning, and the less-valuable Martin and Mitchell. Support exists for this assertion, as Gaitonde did switch to a nonrepresentational and context-sensitive mode in 1959, when he began innovatively whooshing paint all about his canvases with rollers, and heedlessly called himself a Non-Objective artist.
This is all very exciting and commendable, and we understand that Ms Poddar's readings of Gaitonde as an unsung Adam of Abstraction draw upon the liberating insights of the post-colonial critic R. Siva Kumar, who wrested Modernism from its Eurocentric prison and reevaluated it in light of indigenous engagement. The only problem is that while the concept of lower-case modernisms resonates with inclusivity and enlightenment in the classroom it means something altogether different when crushed beneath the gavel. We may thus fret over whether the prime movers of the 'global' art-world recognize Gaitonde's participation in the manumission of modernisms or rather just call him a Modern because they simply cannot value him apart from the metrics of Russian oligarchs and the affinities of hedge fund managers.
Having worked here at Christie's for six months we indeed worry tremblingly that forcibly characterizing Gaitonde as a modern abstract polymorph places him not on the path to freedom but rather traps him in the unenviable position of the simultaneous inventor, or multiple discoverer, which proves really much worse than it sounds.
Examples of such unfortunate synchronicity scorch the field of science, and may be illustrated with citations to the ghastly career of, for example, the 19th century Welsh working class autodidact naturalist Alfred Russell Wallace. Pauvre Wallace hallucinated the concept of natural selection while suffering from a fever in 1958 in Indonesia, and promptly wrote Charles Darwin about it in a soon-to-be-published letter. Not a dog barked, however, until the Wedgewood heir Darwin finally cooked up his massive tome On the Origin of Species (1959), where he told the epic saga of his swashbuckling enterprises on The Beagle and gained many religiously enraged readers. Wallace found himself thus fated forever to be known as 'the other one,' and he soon balmed his disappointment with nobble-headed spiritualist hobbies, such as attending séances and hiring spiritual photographers, who took photographs with wee ghosts in them. At the end of his life Wallace enjoyed the peaceful quiet that arrives with social invisibility, except for the brief moments of notoriety he gained through the perfervid anti-spiritualist attacks waged by skeptic zoologist E. Ray Lankester. Wallace at this point also malingered in hideous poverty and would have died starving in the street were it not for the efforts of the magisterial Darwin himself to secure him a small pension.
The arts, as it happens, also possess their own history of multiple discoveries, which usually involve racial minorities who blithely invent forms and styles without consulting New York or Paris. Such was the case, for example, with the women of Gee's Bend, a U.S. Southern rural town of African-Americans in the Black Belt of Alabama. Starting in the 1930's, ten or more years before Pollock would paint the now $200 million-dollar 17A, the distaff members of Gee's Bend began making brightly striped and ingeniously arranged quilts from old clothing in order to warm themselves and their families during the winter frosts. These quilts are deeply inventive and bear lovely hues and an innovative use of shapes and forms which deviate from the fruit-basket and star-shapes of traditional American quiltery, and may grow out of the tradition of African textiles. The art world discovered the quilts in 2002, when the Whitney Museum of New York acquired and showed several of them to absolutely rapturous acclaim. These are 'some of the most miraculous works of modern art America has produced,' Michael Kimmelman wrote in the New York Times. 'Imagine Matisse and Klee (if you think I'm wildly exaggerating, see the show) arising not from rarefied Europe, but from the caramel soil of the rural South in the form of women, descendants of slaves when Gee's Bend was a plantation.'
Interestingly, Mr Kimmelman seems rather mental in his review. It proves difficult to imagine this august American art critic describing Matisse or Klee or Pollock or Rothko as 'miracles' without suffering an accusation of making ballyhoo. Kimmelman, for example, stands more likely to describe Matisse as 'master[ful]' and Klee as 'witty' than as outrageous manufactures of the gods, because those European males enjoy an unshakably titanic reputation. Kimmelman's screaming gin and ignorance indicates that the Gee's Bend artists need help of some sort, the extra assist of hyperbole, as indeed they might, being only simultaneous rather than prestige inventors.
As it so happens, Christie's does not auction Gee's Bend quilts, but a very nice example of Polly Bennett's work from the year 1955 can be purchased on EBay for $25,000 or a 'best available offer' as of this writing. $25K USD proves far less than Gaitonde's GBP 1,370,500/USD 2,014,635 yet the principle remains the same.
So from this history we see that the last thing one would want to be is a simultaneous inventor.
Although perhaps Gaitonde did not really invent anything much at all. For this is the other, juxtaposing insinuation offered by Christie's promotion of the artist, since the auction house's web-biographies consistently report that upon winning a Rockefeller fellowship in 1964, Gaitonde traveled to New York and committed the indiscretion of looking at non-polymorphous Abstraction Expressionist art. In other words, we hint that he pinched it. As Christie's notes in our artist bio, '[Gaitonde] was profoundly influenced by painters like Mark Rothko.' And in 2013, Christie's own Hugo Weihe, our international director of Asian art, described Gaitonde unsubtly as the 'Rothko of India' to Bloomberg news, maybe dreamily hoping that he might prick the ears of the Rothko-loving Russian oligarch Dmitry Rybolovlev. This 'influenced-by' advertising strategy leaves the prospective art purchaser with the impression that Gaitonde copied the Abstract Expressionist masters and added to them his own special flair.
From all of this piffle we can barely discern the artist Gaitonde at all, buried as he is beneath the sediments of Pollock, Rothko, Newman, de Kooning, Orientalism, capitalism, Poddar's authentic postcolonial embrace, the Guggenheim's conflicts of interest, and Christie's brash efforts to court not only white billionaires like Kenneth C. Griffin and rich Russians but in some degree also the wealthier citizens of the Indian subcontinent.
Yet it is upon consideration of all of hermeneutical piling-up that we can finally discern the joke that the Abstractionist Gaitonde made when he told reporters that he was not an Abstractionist but a Non-Objectivist. Non-Objective art is a real art category, and designates the above-noted respectable-but-not-blockbuster school of painters exemplified by Malevich and Kandinsky, who made angularly geometric paintings inspired by Plato. In Gaitonde's insistence on his Non-Objectivity was he saying, 'I am like Plato?' Or, 'I am like Malevich and Kandinsky?' Or, 'I, too, believe that geometric forms are the most beautiful of all, particularly the charming tetrahedron and the sexy dodecahedron? '
No, of course not. The keen if overly educated researcher of Gaitonde's oeuvre will find nary a proper geometric contour amongst its glittering swooshes and glyphs. Yet since said detective has studied market absurdities such as the History of Art and international theories of poscolonialismo, she will alert to the tintinnabulation of snark in Gaitonde's pronouncement. Yes, she will hear that Gaitonde calls out to us multiply-degreed racial minorities who work in limited web capacities for global art-world behemoths who call upon us to paper his corpse with labels invented by the conquerors. Such art-world factotums will find themselves disconcertingly engaged in a Wallace-like séance as they hear Gaitonde mocking them in that clangorous voice of the subaltern who would speak. There is no objectivity in this amusing carnival you call the art-world, Gaitonde's shade cackles at these auction-house dogsbodies whose ancestors may have, say, arrived to this sceptered isle as a BP Oil barge stowaway. There are no Abstractionists, no polymorphous modernism, no co-inventors, no Eastern byways serpentining off the trails blazed by Rothko etcetera. There is only the transformation of the gilded primordial power of Untitled (1975) into a brand marketed for those credulous customers who would value art the more for its proximity to white male fame and genius than for its confusing beauty, the hard efforts of its artist, the sacrifice it entailed, and the transcendence it conveys, chatters on this garrulous and persnickety spirit.
Ha ha ha! Gaitonde laughs at us from the grave. Ha ha ha!
We dogsbodies of the art world find ourselves simpering along.
What is one to do? The night lends us no rest. This copy should have been posted three days ago. As we sit at our desk in Christie's London headquarters, we look on the floor to see our brutally-thumbed copies of Octavio Paz, Gayatri Chakravorty Spivak, and Pierre-Félix Guattari. We recall sitting in the dowdy crannies of Cambridge's Casimir Lewy Library and weeping over our edition of Fernando Coronil's The Magical State (1997), and then running to Stickybeaks Café on Hobson Street to plot the takeover of Trinity Hall to protest the prevalence of Chaucer over Mulk Raj Anand in the English course.
Rebellion in the form of perverse web advertising seems a poor substitute for a proper demo but what with today's ghastly Nigel Faragesque immigrant bashing and the Brexit humbug it seems the only dissent that we can manage.
Hark all, ye billionaires and tyrants, robber barons, and oil heirs: Vasudeo S. Gaitonde was an Abstractionist whose work was sold by Christie's on 26 May 2016, on London's King Street,for the remarkable sum of GBP 1,370,500, USD 2,014,635.
No, sorry, that needs just a bit of correction: Vasudeo S. Gaitonde was a Non-Objectivist artist whose work sold for the value of Kenneth C. Griffin's pocket change yet surely remains worth at least $200 or $300 million USD.
No, apologies, that really isn't quite right: Vasudeo S. Gaitonde was an artist whose worth remains priceless.
Aha! Perfection: Vasudeo S. Gaitonde, who wanted us to call him a Non-Objectivist artist, remains an unperishable genius of colour, form, and audacity, and nothing that the almighty market and its makers say or do to his memory nor his work can change that.
Contact Client Service
New York +1 212 636 2000
London +44 (0)20 7839 9060
Hong Kong +852 2760 1766
Shanghai +86 21 6355 1766

© Yxta Maya Murray 2016
The Barcelona Review is a registered non-profit organization
Author Bio
Yxta Maya Murray is a writer, art critic, and law professor. She has published six novels (Locas, What It Takes to Get to Vegas) and won a Whiting Writer's Award in 1999. Her work has been published or is forthcoming in Barrelhouse, Joyland, Guernica, The Los Angeles Review of Books, The Volta, and other journals. She lives in Los Angeles.