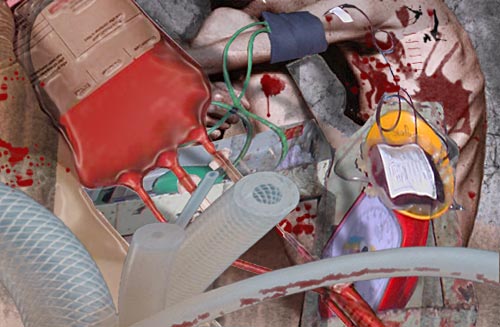 This December finds Barcelona experiencing one of the coldest winters in years. The freezing temperatures are even causing some cafés to close their always open doors which doesn't necessarily guarantee heat inside but does assure a fog of cigarette smoke dense enough to offer some substitute. Whatever weather you're battling, a cup of java and some hot new fiction should pick you up. And towards that end we send you our latest offerings . . .
Kicking off is an excerpt from Adam Johnson's novel-in-progress, set in North Korea (where the author visited in 2007), which takes you into a heart of darkness you won't soon forget. This is a writer at the peak of his power and we're thrilled to present this sneak preview of his chilling new work. (See also Trauma Plate from issue 33)
Next up is The Alligator by Daniel Eli Dronsfield, a delightfully twisted story of a bored middle-school teacher whose day picks up when an alligator appears at the school cafeteria's door. Donald Barthelme would relate.
Dixie Land by B.J. Hollars is an innovative piece which throws together a school grounds keeper, who lives in the Confederate past, and his physicist wife who is working on time travel. No, it is not the least bit predictable; it is full of wonder and surprise.
In the realm of realist fiction, The Chest by Kathryn Simmonds portrays a young woman who finds a discarded chest on the side of the road - a find that will test her mettle. I love the array of female emotion that runs through this piece.
Last of all, we have three flash fiction stories which show just what can be done in this form: Olatundji Akpo-Sani's John Paul Drive; Félix Calvino's They Are Only Dreams; and John Holley's Now.
Picks from back issues include Welsh writer Niall Griffiths' Coming of Age and Donald Hays' Why He Did it - the one raw and raunchy, the other probing and unsettling.
Our quiz this issue is on Haruki Murakami. So if you know why Toru first descended the well, you're off to a good start. Our winner for last issue's quiz on African-American Literature is Dona Bowens. Click here for the answers. A 30-euro gift certificate from Amazon goes to the winner.
In book reviews, we have the new and amusing Christmas-themed short-story collection by Augusten Burroughs, You Better Not Cry; the hilarious Dot.Conned by Diana Grove; the fun-to-get-lost-in dystopian novel, Enclave by Kit Reed; and the moving (and very sexy) memoir by Rachel Resnick, Love Junkie, now out in paperback; and Roads Ahead, a rich and diverse short-story anthology celebrating Tindal Street Press's 10th Anniversary Collection.
Local News: The two big topics of conversation besides the freezing weather: Barça's big win this week over the South American champions from Argentina to capture their sixth trophy of 2009, this time the Club World Cup. And debate on whether or not the new No Smoking law will indeed go into effect in the new year. Locals say they'll believe it when they see it. Bets are on.
Our next issue is due out around the end of February. To be notified when new issues are available, you can become a fan of The Barcelona Review at Facebook (sorry, don't like the tag, but that's all that was possible), or email us, though often our bulk email is blocked from servers even though we only send to those who request it.
Until then, we hope you enjoy our new line-up.
All the best wishes for the next decade from Barcelona,
Jill Adams
Barcelona Review is a registered non-profit organizatio
español | català | français | book reviews | TBR archives | submission info | TBR info | links |
©2008 The Barcelona Review