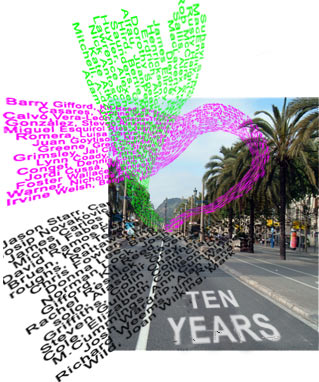 This spring TBR reached its 10th birthday. I was teaching a Travel Writing course to a group of American exchange students here in Barcelona, 20 and 21 year olds, from various universities around the US, all hooked up in every which way to the digital world—checking out Facebook for social networking (with groups to join specifically focused on study-abroad locations, such as Kiki's Barcelona's "Exclusive Barcelona: L.M.B.," which sends out daily messages on that night's party venue); chatting online with friends and family back home, blogging and reading blogs, all with cell phones, flashing quick pics. I hadn't taught Americans for ages, so perhaps that is what gave me pause: these guys were only ten years old when we started The Barcelona Review. I must have sounded enough of an old-timer always harping on about how different Barcelona was before the 1992 Olympics, which put the city on the map, but stripped it of so much of its identity. The late Manuel Vázquez Montalbán never ceased to rant about the change (see Montalbán Retrospective), and I'm squarely with him on that. But early on, my partner Garry Smout and I embraced the world of the Net. I bought my first computer in 1995 and Garry's creative mind somehow naturally connected to the cyber world; he taught himself how to do everything, with me learning from him.
What my students would find hard to comprehend is that in April 1997, when TBR produced its first issue, the Net was new and happening (modems ran at 33.3kbs, blogs unheard of, chat rooms only for the super-wired few [usually of the Dungeons & Dragons variety], no phone calls by Net, no MySpace, YouTube, eMule; not even Google, nor Internet Explorer—nada). It was raw and uncharted, and no one knew for sure if it would "take off." There was only one literary review in Europe, The Richmond Review from (Richmond) London (no longer publishing, but with much archived material), edited by Steven Kelly, to whom I wrote for advice. I will always remember his generosity, sharing all he knew. In the US, there were only a handful. Web del Sol was around, which has continued to grow into a huge literary resource complex under the editorship of Michael Neff. The thought-provoking Archipelago, edited by Katherine McNamara, began the same year we did. Then, as we approached the millennium, the explosion began in full force, and like some nuclear chain reaction has continued to mushroom; lit reviews now infuse the Net. Many last only a few issues, but others have endured: Lee Klein's delightfully cheeky eyeshot has been around since 1999, and the sexy-erotic Nerve came along about then too. And, of course, the long-running, highly respected university print reviews, such as Missouri Review and Mississippi Review, eventually began online editions as well. Last week, I clicked on yet another new one—mainly, I confess, for need of a break from work (I probably receive a half dozen notices a week about new reviews)—and was gobsmacked by all the fun to be had (see American Sideshow from New Orleans).
The point is: back in 1996/7, the literary world of the Net was a desert, and I am proud to have been there at the inception, just as I am forever thankful to have known Barcelona before her major facelift (and before the cruise ships, cheap airlines, and ubiquitous chain tapas bars). And I'm happy with the proliferation of the many good sites the Net offers. The literary world is healthy and thriving, and how can that not be a good thing?
I was recently asked in an interview how our site has changed over the years, and I responded that we have all worked to stay to our intended course: to find the best short fiction available internationally, from both established and new and emerging writers, and to get it out there to our readers. The writers are what keep it fresh.
Times change, of course. Web designer Garry now lives in the Midlands of England without broadband and so must reserve space at the local Evesham library to put up the site, in line with Polish immigrants contacting home and truant schoolboys killing time on Bebo; the only upside being he found a Polish-staffed bar nearby with affordable pints, but what a step backwards in trying to maintain a site! Still, he perseveres. Putting up three sites every two months, mind you, not just the English, but the Spanish and Catalan as well, the only person whose mark is on every one of the thousands of TBR pages. Our local crew meanwhile recently met at bar Andú to discuss the new issue and TBR's future. We're all still committed—at least so we decided in our alcohol-fueled state—so barring the demise of the Evesham public library, I suspect we'll be around for awhile.
So, dear readers, writers and contributors, literary supporters and strolling players everywhere... you're all part of the team, so here's to you. Hope you enjoy our special 10th anniversary issue, running June, July and August. Write us! We wanna know what your thinking.
Now to click onto BBC/radio 1, peruse my actor nephew's blog, buy the latest Rupert Thomson on Amazon.co.uk, check out le cool for what's happening in Barcelona, Skype my friend Leah in Oregon, read the front page of The New York Times and the Guardian, reserve seats for the cinema, order some prescription drugs (just kidding; got national health here anyway), and check out some Sunday book revs. Bless!
See you in September. Click here if you'd like to be notified when new issues are online.

Jill Adams, editor
The Barcelona Review